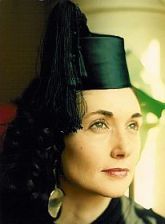 After studying Philosophy and Pedagogy at University of Madrid, Charo Iglesias moved to San Sebastian where she worked for three years as a Special Education teacher. Later in Paris she attended a University art course. In the long journeys on the Paris subway she made her first crochet hat. Thus began a hobby that eventually became her profession.
In 1980 she returned to San Sebastian where she set up a workshop to devote herself to learning the craft of millinery. Her work has been featured in Exhibitions, Film, Theater and Opera and Charo began teaching millinery in her atelier.
Now based in Madrid Charo's hats are still in demand and she has made collections for Pasarela Cibeles and Gaudí Manuel Piña, Jesús del Pozo, Drink Medem, Roberto Toretta and Elio Berhanyer.
Charo Iglesias
Jorge Juan 102 6ºD
28009 Madrid
Telephone: +34 91 577 76 28
E-mail: infor@charoiglesias.com