Catherine Kelly works from her studio Embellish atelier, a space overflowing with treasures collected from around the world.
Catherine's years of teaching textiles, designing and manufacturing beautiful bespoke textile items, which have been snapped up by shops such Liberty of London and Linen and Lace of Balmain shine through in her quality workmanship.
Catherine has been taught by some of Australia's finest milliners including Jane Stoddart and has attended workshops with Waltraud Reiner, Eugenie von Oirschott, Jean Carroll in her quest for furthering her knowledge.
Her hat collections show her confident sense of colour, line, and texture.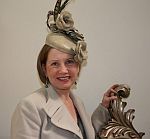 She adores the beauty of millinery materials and her designs have been described as modern elegance. She designs couture millinery for her clients at her studio Embellish atelier and runs regular workshops there at 48 Victoria Road by appointment. Workshop details are below and you can visit her website to learn more about soft furnishings workshops that are also available.
Embellish atelier
www.embellish-hats.com info@embellish-hats.com
128 Victoria Rd, Rozelle, NSW 2041
Catherine Kelly
0416182486
Courses include:
MAKE A FABULOUS RACE DAY HAT
SILK FLOWER MAKING WORKSHOP
LEARN TO MAKE A FASCINATOR WORKSHOP
WIRE WORKSHOP
3 DAY INTENSIVE HAT MAKING CLASS
COCKTAIL SHAPES