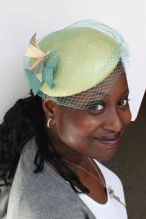 Katty Janneh designs and makes hats for special occassions. Her hats have a modern vintage style with touches of glamour.
Katty runs 6-week evening classes from her studio in South London. Suitable for beginners, the course will show you how to create your very own hats and headpieces using traditional millinery methods. You will also learn how to make your own trimmings to make your hats unique to you (Cost from £65 excluding materials).
Katty also runs weekend workshops. With expert tuition you will experience a short, sharp, but really sweet course on making your very own hat! The course is suitable for total beginners, but basic sewing skills will come in handy. Costs £165 (including materials, trimmings, hat box and refreshments.
Katty Janney, Studio TW43 Trinity Wharf, Second Floor Studios, Mellish Industrila Estate, Harrington Way, London, SE18 5NR.
Tel: 07776 289906 / email: info@katyjanneh.com