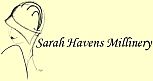 I have made my own line of fashionable hats, as well as reproductions of men and women's vintage hats. I include hats for men in traditional styles such as the straw or fur/felt top hats, fedoras, and straw boaters. For women's hats I use these same styles but add a feminine flare. I also incorporate flirtatious shaped cloche designs, which were popular in the late 1920's and today.
Many professional theatres hire me for millinery work including the Cincinnati Playhouse and opera houses in Santa Fe, New Mexico and The Metropolitan Opera in New York City.
Currently working in my Newport, Rhode Island studio I am creating my own line of hats for fashion and am now available to teach.
Contact me for more details:
info@sarahshats.com
513.295.2013 www.sarahshats.com