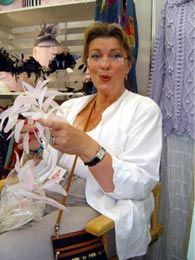 Sonia Pascoe founded Ribbons & Bows in 1989. Soon a shop was opened in West Sussex and Sonia quickly realised that her creative talent to produce innovative & unusual designs was much in demand.
Since then, Sonia has turned her talent to creating a range of stunning hats using a selection of Italian feathers and Sinamay – from floral displays, to creations as outrageous as you can dream up and is keen to share her skills with you. Sonia promises a great day, a super lunch and you can leave with something that you are proud of.
Sonia is available as a tutor and if you would like to find out more you can contact her.
Tel: 07884 187233
Email: sonia@ribbonsbows.co.uk