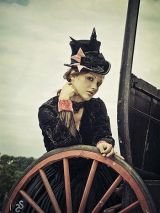 TopsyTurvy Design is a Theatrical Millinery Company based out of Oakland, California in the San Francisco Bay Area.
TopsyTurvy is owned & operated by Kim Brown-Dye, a confessed theatre nerd & history buff who holds a degree in Theatrical Design from Cal State East Bay.
Ms. Brown-Dye has been producing whimsical, historically inspired millinery for the masses for the past 4 years. Her workhas appeared on America's Got Talent, Good Morning LA&MTV and has been published in several books &magazines including, True West Magazine, 666 Photography – Virgin Queens & High Camp Divas& the soon to be released 1000 Steampunk Creations.
Her diverse clientele list includes operatic diva, Prince Poppycock, Courtney Love, Sanrio and many shimmy-shakers in the nouveux Burlesque scene, including Lola the Vamp & the Reigning Queen of Burlesque – Ms. RoxiD'Lite.
Workshops include
-How to Build a Top Hat (4 Day Intensive Course)
-Fascinators 101 (1 Day Course)
-Fantasy/Anime Millinery Workshop (5 Day Intensive Course)