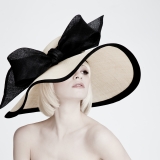 Dillon Wallwork is a London hat designer who creates high quality bespoke hats and couture headpieces. A prominent milliner for over 25 years, Dillon specialises in contemporary hat design to suit the elegant and sophisticated woman.
From his South West London Artelier he offers bespoke one to one tuition in the art of millinery. Courses are tailored to suit the needs of the individual and cover a wide variety of techniques including working with felt, sinamay and straw.
Courses start from £200 a day. Please telephone 07870824384 or email him at info@dillonwallwork.co.uk to discuss your specific requirements.
DillonWallwork Bespoke Hats, Unit 10,TownmeadBusiness Centre, WilliamMorris Way, Fulham, London, SW6 2SZ
M. 07870824384, EMAIL. info@dillonwallwork.co.uk