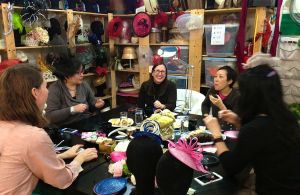 China's Milliner, Elisabeth Koch, now offers Hat-Workshops with High Tea in our Beijing Studio! For fashion-forward hen parties, glamorous birthdays, good-bye parties or just for fun:
The Hat-Workshop & High-Tea Party Package includes all materials, trimmings, flowing tea and high-tea delights with expert tuition by China's Milliner, Elisabeth Koch, and a finished designer head-piece at the end.
Parties are booked in groups. The minimum number of people we can accommodate is 6 and the maximum is 12.
The event can take place in our actual hat-making atelier (XingFuCun/Sanlitun area) or in a venue of your choice: a hotel, wine bar, private VIP room, or in the comfort of your own home. The event lasts from 2.5 to 3 hours and is in English (free Chinese translation if necessary). All you need to be able to do is sew with a needle & thread.
For Bookings, e-mail or call Elisabeth directly at 139 1043 1832 / elisabeth_koch@icloud.com