5 Day Millinery Masterclass with Maor Zabar
September 3, 2018

-

September 7, 2018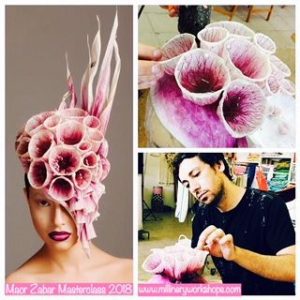 Workshop skill level:
Beginners and advanced (all must have sewing skills)
The Tutor:
The workshop will be led by Maor Zabar who will be flying over from his base in Israel especially
to bring his knowledge and love of hats to South-West France. Maor is the grandson of a tailor.
He has updated his grandfather's flare and tailoring skills to create hats for dance, theatre and
opera for the modern age. As well as teaching, he runs a thriving hat business from his base in
Tel-Aviv. Maor has always loved hats which is self-evident when you look at his wonderfully
creative designs.
Workshop Description
During the workshop Maor will draw on his experience to teach skills and techniques to enable
you to manipulate fabrics and other materials to create unique and inspiring headpieces. You too
will be able to make hats that you never dreamed possible. This is an opportunity to be part of a
truly special week of inspiration and learning.
Days 1-2
You will create free style fascinators/headpieces made from silk on a buckram base. You will
learn how to sculpt the buckram into 3D shapes and to stiffen silk. You will then drape it over
the base and add shades onto the final hat.
Day 3
You will be taught various techniques to create silk flowers and leaves and will use them to
decorate your silk fascinators.
Days 4-5
You will learn a technique called "Architectural draping" and will create hats using a unique
paper process to create a mockup and trace it later onto the final hat.
Delegate Outcomes:
You will finish the workshop with up to 3 amazing hats