ADVANCED Leather Rose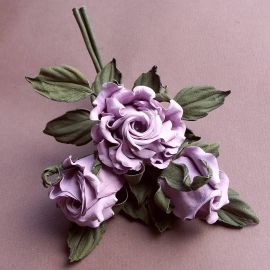 Level: advanced***
This is a rare workshop on one of our signature leather flower designs so book early not to miss out.
Along with the range of photo and video tutorials PresentPerfect Creations offer an opportunity to book flower making classes with Svetlana Faulkner, the designer/maker behind PresentPerfect Creations.
Workshops are delivered in small groups of up to 3 students at a time. If desired, the leather roses can be turned into a hat trim on the day.
What you'll learn in this workshop:
❀ making the stiffening solution for leather flowers
❀ stiffening and shaping petals and calyxes by hand
❀ backing leather leaves with fabric
❀ using a pair of tweezers for shaping rose petals in several ways

❀ shaping petals and leaves with millinery tools
❀ assembling the roses in different sizes and putting them together into a corsage
Flower making classes take place in the picturesque English town of Stamford (http://www.visitstamford.com), where Svetlana lives and creates her flower pieces. If you need more information on how to get to the venue please contact us at enquiries@presentperfectcreations.com
Price includes all the required materials and supplies as well as  tea/coffee and a light lunch.
Millinery tools are available for students to use, but you are encouraged to bring your own flower iron and a set of tools if you have them.
The workshop runs from 10 am till 5-6 pm depending on the complexity of the design and the progress on the students.