Cut, Sculpt & Manipulate Velour Felt with Tracy Chaplin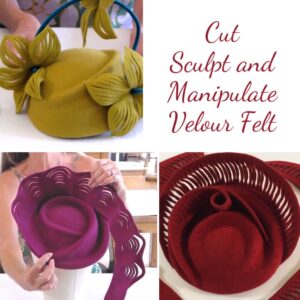 East Village Hats
Sunday May 28th and Monday May 29th 2023 10am -6pm with a 1 hour lunch break
Learn how to cut, sculpt and manipulate velour felt to create a variety of hats and headpieces. Create interest for your trims and make your designs standout.
We will focus on a series of techniques that will be demonstrated clearly with examples and design inspiration. I will also share the process of creating smaller hand sculpted hat designs and we may also have time to create a second hat with a separate crown and draped brim.
How to wire the brim and invisible stitching techniques for the brim edge including attaching your trims will also be covered.
These techniques can be applied to a variety of hat designs including smaller hand sculpted hats, brims and retro vintage styles. The effects achieved are similar to laser cutting.
All Materials including, basic hand sewing skills a must.