Advanced Freeform Sinamay Techniques with Tracy Chaplin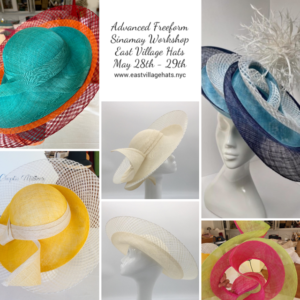 East Village Hats
These advanced techniques have been developed to help you further expand your skills when working on the bias to create your Freeform Sinamay designs.
During this workshop we will focus on new methods of design and construction using Sinamay straw.
 Day 1 – We will explore smaller sculptural hat designs, layering techniques and flat brims.
Each part of the process will be demonstrated clearly whilst students create a hat.  I will share three different designs so that you have a better understanding of how the techniques can be applied. You can copy one of my designs or create your own variation.
You will find that the new techniques will inspire your creativity and give you a new approach to designing and constructing on the bias to create your Freeform hats.
Day 2 – We will focus on crown and brim techniques giving you new skills that will enable you to create a hat with a brim sitting inside the crown.
 The following techniques will be covered in detail:
 How to shape and manipulate a brim that will sit inside a crown.
How to size your hat brim accurately so it sits perfectly inside your crown.
How to manipulate single and double bias brims for your hat designs when using the new techniques.
New methods for finishing your brim ends.
Once you have mastered these techniques you will be able to create a variety of hat styles without the need for a brim block. This is a very versatile technique that can be applied to small and large hat designs.
 All Materials including, basic hand sewing skills a must
Sunday May 28th and Monday May 29th 2023 10am -6pm with a 1 hour lunch break