Fabulous Feathers (online)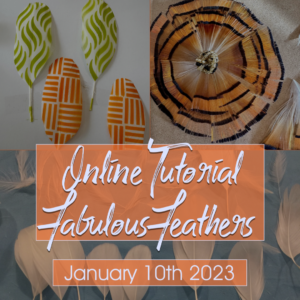 Learn how to create feather mounts, feather flowers on a wire structure, floating feathers and apply interesting surface decoration.
During this fun and informative workshop Tracy will share traditional and modern feather techniques and inspire you to explore new ways of working with feathers.
The techniques will be demonstrated clearly with design inspiration and ideas for future projects.
Length: 3 hours
Cost: £50
Date: Tuesday January 10th 2023
Time: 5.30pm – 8.30pm (Paris time) CET