FASCINATOR / HEADPIECE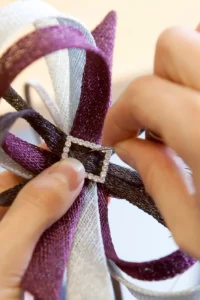 Studio workshop – places are strictly limited.
10am until 1pm
This half-day workshop is an introduction to the art of millinery.
WORKSHOP:
You will learn how to work with sinamay (a type of fine weave straw), feathers, and veiling (optional), to create a headpiece you would be proud to wear to any occasion.
Choose from a wide selection of sinamay colours and different types of feathers, to design and create your own unique headpiece to your own design. You will learn how to manipulate the materials to create different designs, and how to trim feathers to shape.
No experience required, but you will need some basic hand sewing skills (how to start and finish hand sewing, running stitch, and backstitch).
The workshop is held in our gallery at the studios with lots of space to be creative, surrounded by inspiring works of art…. and hats!
INCLUDED:
All materials, equipment and tuition are included in the cost.
You don't need to bring anything!