FLOWER MAKING FROM LEATHER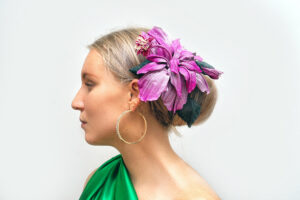 Learn how to make beautiful and realistic-looking flowers from leather and suede. Participants will go through all the stages of the process of creating flowers. This will include the preparation of the materials, making patterns, dying materials, assembling and finishing techniques.
You will learn how to work with a wide range of Japanese-style flower-making tools. I will teach several techniques for dyeing suede and leather, which will allow you to create more beautiful results.
Depending on their progress, students could choose to make various roses, including an old English rose, chrysanthemum, poppy, clematis, dahlia, orchid, sunflower,  peony, camellia, hibiscus and other flowers. All these flowers are very distinct and in making them, you have to use various elements of flower-making techniques. You will learn how to modify existing patterns and design your own flowers.
 All levels
Early Bird Discount until 1st December.
GrampianArts ( Victoria, Australia)
https://www.grampianarts.com.au/grampians-texture-galina-koford.html