Free Form Sculpting Techniques in Sinamay and Parasisal Straw
November 18, 2019

-

November 23, 2019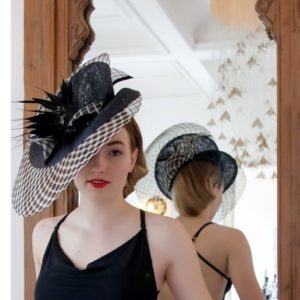 The workshop will cover free form blocking techniques in sinamay and parasisal straw. The focus will be on new and exciting techniques that I have developed to enable students to create unique and individual hats.
The following techniques will be covered in detail.
Preparing materials for free form sculpting: stiffening straw, cutting on the bias, making templates for your design.
Design and inspiration: The importance of a fluid design and how to achieve this.
Manipulating and blocking techniques: shaping materials by hand using steam and free form blocking techniques.
Double Brims: creating a double brim in sinamay.
Wiring techniques: attaching the wire, new wiring techniques for bias trims, wiring your trim and embellishment and how to work with Swiss straw braid trims. Stand alone techniques with wire.
Sewing techniques, applique trims and the importance of finishing and attention to detail will also be covered.
Students will be guided through the process and given clear instructions and helpful time saving tips. There will be a maximum of 5 students on the workshop to ensure time for personal tuition and overcoming any difficulties or problems that may arise.
By the end of the workshop you will have created two or three unique and beautiful hats to take home with you.