Innovative scraps hats with Tierre Taylor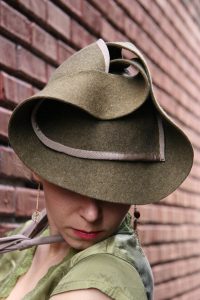 In the depression a serious lack of funds and materials gave rise to some incredibly innovative millinery. In this workshop Tierre Taylor will take you though some effective techniques to make dramatic cocktail hats from off cuts or old hats.
During this workshop you will not only learn about the process of draping with unusually shaped felt, but will gain understanding of use of line and trim how to create a stunning sculptural headpiece. Each person will have a lovely little percher (or 2) finished by the end of the class and a whole set of tricks in their pocket.
All Materials included but feel free to bring favorite scraps or unloved felt hats to woirk on, no skills necessary.
Monday February 28th 10-5pm with a break for lunch.