Millinery Masterclass – Cold Porcelain
January 15, 2022

-

January 16, 2022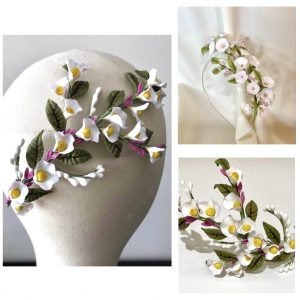 What is cold porcelain?
Cold porcelain is a polymer clay which is versatile and pliable, with which you can form and shape flowers, leaves, stamens…to create beautiful floral headdresses.
This is a 2-day online course, suitable for all levels, where you will learn the techniques to create cold porcelain flowers, leaves, stamens…
On the course you will learn how to form, shape, paint and assemble these elements with silk thread to make a beautiful and exclusive vine headpiece. Perfect for a bride or special occasion!
By the end of the course you will have created your very own unique headdress!
Dates: 15th – 16th January 2022
https://en.tocadosbygeraldine.com/cursos
Email: tocadosbygeraldine@gmail.com
@tocadosbygeraldine
@belen_escacha
@aedesombrereria