Millinery Masterclass – Italian Mesh Headdresses
February 12, 2022

-

February 13, 2022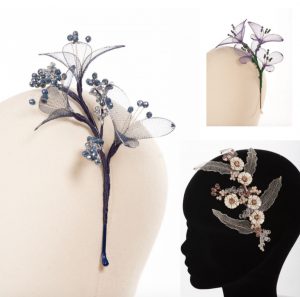 What is Italian Mesh?
Italian mesh is a wire mesh ribbon enameled in different colours,  which can be stretched, shaped and twisted to make embellishments for headdresses, to decorate handbags, dresses…
This is a 2-day online course, 14 hours in total, where you will learn different techniques on how to form and shape Italian Mesh to create petals, flowers and leaves.
Together with these and other adornments, such as, crystals and brass flowers we will teach you how to wire and and assemble them using silk thread to create a headband and vine, perfect as a bridal headdress or for a special occasion!
By the end of the course you will have created 2 unique headdresses!
Dates: 12th – 13th February 2022
https://en.tocadosbygeraldine.com/cursos
email: tocadosbygeraldine@gmail.com
@tocadosbygeraldine
@millinerybybelenescacha
@belen_escacha
@aedesombrereria (Member of the Spanish Millinery Association)