More Millinery Perfection with Dillon Wallwork
July 11, 2020

-

July 18, 2020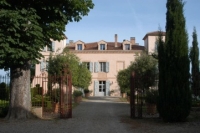 Haute-couture milliner Dillon Wallwork returns to Chateau Dumas again in 2020 for the eleventh year in a row.  With over 35 years' experience in high-end model millinery, Dillon has a set of skills that make his classes essential for students wanting to improve their traditional skills.
This 7-night workshop is aimed at competent milliners who are looking to take their skills to a more refined level. During the week Dillon will cover advanced techniques for blocking and creating a variety of foundations including Sparterie.
Understanding how to achieve a professional finish is key and Dillon will introduce you to a range of millinery materials and explain their uses and properties.  He'll demonstrate how to make sumptuous bows in silk and how to make perfect Dior roses from silk.  Techniques for covering crowns, pillboxes, and headpieces with a variety of fabrics will also be covered as well as large brims and fabric-covered couture edges.
The workshop coincides with the local International Hat Festival, Estivales du Chapeau, which we visit during the week and where you'll be able to meet milliners from all over the world.
This workshop is open to milliners with previous experience.
For more information: