Virtual Parisisal Straw Explored – 2 Day
March 10, 2022

-

March 11, 2022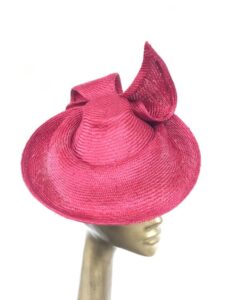 Online Class with Jenny Roberts
This course is aimed at:
Those who want to explore working with Parasisal straw and experiment with the many possibilities it brings. Previous experience of blocking sinamay is needed and experience of sewing. 
NB – if students are joining us from Aus/NZ time zones it is possible to leave the course at 1pm (uk time) and you will be given instructions on what to complete for the following day
The course will involve:
Learning how to block Parasisal and its foundation materials using traditional techniques of steaming and pinning over a vast choice of wooden blocks.
A tutorial in how to create a Parasisal brim.
Learning how to wire and line the inside with a petersham ribbon.
Exploring various Parasisal trimming techniques including loops, swirls, curls and how to hand roll the edges of your Parasisal.
A tutorial on balancing trim positionings.
Learning how to professionally finish your hat and how to attach an appropriate head fitting.