Virtual Veiling Brims
About the Tutors
Jenny Roberts is one of the North's leading milliners. Recognised for her couture brand, she has been creating beautifully crafted pieces for her clients for over 15 years.  Over the last 7 years, along with her co-tutor Marie Halewood, they have gained an international reputation for the Millinery School, teaching to the highest standard for hobby and professional milliners.
Offering a variety of classes from their Harrogate based School Jenny and Marie are thrilled to be sharing their skills virtually.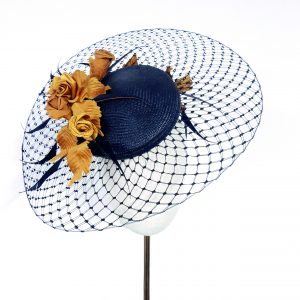 About the Workshop
You will need to be confident with a needle and thread to fully enjoy this workshop and have experience of using veiling, recommended for intermediate to advanced students.  If you are a beginner please complete the 'Intro to Veiling' course first.
You will need
A length of veiling which is 12 inches wide and 80 inches in length, this must be 'Merry widow Veiling' which is a robust veiling with large rectangles in between the diamond design. (vintage or softer veiling will not work for this technique)
Spring wire (metal) (any either 0.8mm or 1mm) 110 inches long
2 small percher approx 5/6 inches diameter, already created and wired  inside the blocking line if hand blocked (no need to have sewn petersham inside unless it came with it)
2 metal ferrules (the size should be the same as your wire – please check by inserting your wire into the ferrule for a snug fit)
Pliers
Cotton same colour as veiling
Good lighting/glasses (if required)  for close up work
Pins
A couple of household pegs
Small scissors
Steam iron and ironing board available
Prep work
Please make sure the veiling is not creased, if so it can be pressed with a mid temperature iron
You will leave with
A large veiling brim
A small veiling brim
The ability to create more of different sizes
The knowledge of how to sew the perchers onto the veiled brim
A understanding of how to trim the designs
A understanding of how the technique can be used to create different designs
5 hr virtual session while you are at home
These workshops will be limited to 10 people to ensure we can maintain a level of interaction. If we have a large demand – additional sessions will be scheduled. This also maybe run in other time zones.
A chance to test that Zoom is working correctly prior to the course, will also be available.