Virtual Beaded Hair Vine – 1/2 Day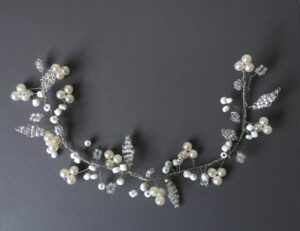 Online Class with Jenny Roberts
This hands-on workshop uncovers the mystery of 'Beaded Hair Vines'
About the Workshop
This course is aimed at those wanting to learn how to use beads and wire to make a beaded hair vine.
3.5 hr virtual session while you are at home
These workshops will be limited to 10 people to ensure we can maintain a level interaction. If we have a large demand – additional sessions will be scheduled. This also maybe run in other time zones.
Chance to test Zoom working correctly prior will also be available
Description:
This hands-on workshop uncovers the mystery of 'Beaded Hair Vines'
An introduction to different types of beads, wire and how to use and include them in a hair vine
Time will be spent practicing the technique of feeding beads and twisting wire to manipulate and create a finished hair vine
Skill Level: Beginner, Intermediate, Advanced  – All Levels