Virtual Millinery Workmanship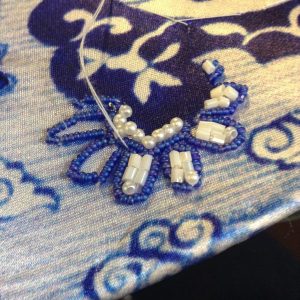 About the Tutors
Jenny Roberts is one of the North's leading milliners. Recognised for her couture brand, she has been creating beautifully crafted pieces for her clients for over 15 years.  Over the last 7 years, along with her co-tutor Marie Halewood, they have gained an international reputation for the Millinery School, teaching to the highest standard for hobby and professional milliners.
Offering a variety of classes from their Harrogate based School Jenny and Marie are thrilled to be offering these courses virtually
About the Workshop
This workshop was born out of discussions with students who felt they needed some direction in terms of improving the workmanship of their designs
You will need to be an experienced hat maker and be confident with a needle and thread to fully enjoy this workshop.
You will need
½ metre of medium weight fabric e.g calico (avoid light weight silks)
¼ metre of light weight fabric (ideally lining material)
2 Metres of Petersham
Off cuts of millinery felt
20 inches of millinery wire (any)
Small swatch of veiling (at least 4 inch by 4 inch)
Piece of Buckram (at least 10 inch by 8 inch)
2 labels if you don't have your own pick one out of an item of clothing
3 lightweight beads
Piece of cord (curtain / blind cord is find) – if you don't have a piece of string approximately 30 inches long
Surgical tape  ( you could also use masking tape)
Ferrule (not essential)
Uhu glue
Plyers
½ metre of sinamay
Thin metal based headband (approx. 5 mm)
Hat elastic with the prongs already attached or thin, round elastic roughly 25 inches in length (approx. 3mm wide or less)
2 combs (metal or plastic) – any size
½ metre of fine ribbon 10 mm wide or less
Any kind of pre created hat lining
Swatch of millinery felt which has been stiffened with PVA and residue left on it
Wire brush
Steamer
Iron
Feather with a sturdy quill
Wooden kebab sticks or cocktail stick
Small glass of water
Household pegs or similar
————————
Pill box which needs a wire
Pill box which needs a hat lining
Pillbox which needs a headband
Pill box which needs a comb
Pill box which needs an elastic head fastening
Pill box which needs the Petersham sewing in
(NB the above could be one hat you put all of the above on and you could use it as a sample to show these techniques)
A hat or pill box which needs trimming with any of the following of your choice  i.e. flowers, loops, veiling, feather mounts
Prep work
No prep work is needed for this course
You will leave with
A library of millinery stitches
A stitched in label
A sample of petersham headline
A trim attached to your pillbox
A comb sewn into the inside of a hat
Questions answered on quality of work
These workshops will be limited to 10 people to ensure we can maintain a level interaction. If we have a large demand – additional sessions will be scheduled. This also maybe run in other time zones.
Chance to test Zoom working correctly prior will also be available.