VIRTUAL Fabric Pleated Cocktail Hat
September 21, 2021

-

September 22, 2021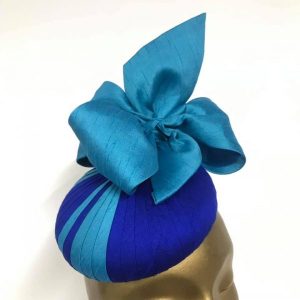 The course will involve:
Learning how to block a hat base using buckram.
Learning how to wire, line and cover with silk or fabric for a beautiful professional finish
Using bias pleats to cover a cocktail hat.
Creating a silk bow to adorn your cocktail hat.
Learning how to create a couture lining and use the techniques to cover cocktail hats.
You will learn how to professionally finish your hat, how to attach an appropriate head fitting and create a couture lining.
Student Supplies (Minus sewing kit):
Medium weight fabric, suggestions include silk dupion, duchess satin. (Must have a bias) Could be more than 1 colour if your design desires
2 metres of double sided (heavy weight) stiffened buckram
Round button Block (this must be round)
Millinery wire 2 metres (could be brim reed or spring wire)
Tape – this is ideally surgical tape, but could be masking tape or Sellotape
1 – 2 metres of stiff sinamay to back the bow (could be a contrast or a complimentary colour to the silk)
Choice of head fitting either an elastic or hairband
1/2 metre of Mac Fleece https://www.macculloch-wallis.co.uk/p/4161/non-fusible-woven/mw/macfleece ( if students are unable to get this it is suggested that they us Tarleton as an alternative or use a heavy weight silk for covering instead of medium
Blocking pins
Required Classroom Amenities (sink, sewing machine, etc):
Steamer (or steam facilities from an iron)
Iron and an ironing board
A polystyrene dummy head or poupee/crown block
Silk and non silk scissors
Pins
Needle and matching thread to fabric
Course outcomes:
You will leave with:
A finished fabric pleated cocktail hat with bow trim and couture lining
Ability to create a couture linings for other sized hats
Information on how to use other methods using fabric to cover your cocktail hat
Knowledge to create further fabric trims.