Perfecting Brim Edges: Straws – Online
May 28, 2021

-

May 30, 2021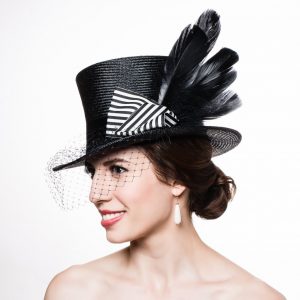 In this two-day workshop, students will learn techniques for neatly finishing brim edges for straw hats.
Students will need to block 3 straw hats with brims prior to class. You will need one panama or parasisal; one sisal, parasisal or toyo, and one sinamay. I highly recommend working with smaller brims, 3″ or smaller in width, on the sisal and sinamay projects so that you'll have less sewing to do. The panama/parasisal for the fringed finish can be between 4″ and 8″ in width.
We will meet for 1.5 hours on Friday for the wire component of the course. We will discuss how to measure, join and sew on millinery wire, as well as choosing the appropriate type and gauge of wire for the project. Students will have homework prior to Sunday's session: They will need to wire all 3 of their samples.
We will meet for 4 hrs on Sunday to finish brim edges. I will demonstrate how to create a fringed edge, how to do a rolled edge, and how to sew a bias binding on a sinamay hat.
I am in Austin, Texas USA which is CST (GMT-6). I recommend worldtimebuddy to convert times to your time zone.
Session 1: Friday, May 28th 12 noon – 1:30 PM CST
Session 2: Sunday, May 30th 12 noon – 4 PM CST
Note: This is a technique-based course (as opposed to project-based) so you will be working on brims only and not making a hat start to finish. You will have plenty of time to practice each of the brim edge techniques.
Skill Level: Previous hand sewing & millinery skills recommended.
Format: Zoom