Blocked Veiling on a Fascinator – Online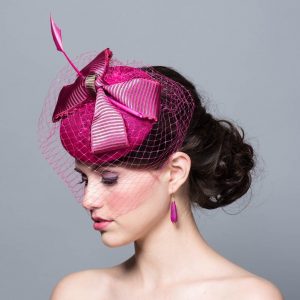 In this 3.5 hour workshop, you will learn how to measure, cut and sew veiling, then steam and shape it over a veiling block so that it will drape beautifully rather than droop sadly around the head.
Students may work with Russian, French or English veiling.
This is a technique-based course (as opposed to project-based) so you will be working on veil and base only and not making a finished hat or fascinator. You may add trims at a later date, to finish the veiling samples. This class is the first project from the 2-day fundamentals course "Veils: Classic to Couture" that I taught from 2017-2019. I am adapting it to an online format for 2021.
You will need a veiling block or an XL (26″+) balsa utility block similar to the one in the fourth photo. I have four polystyrene foam blocks that are available to borrow for use during this class. There is a refundable $50 deposit and renter pays to/from shipping (approx. $14 each way). Add a note to your order to reserve one. (4 available as of 3/15)