Live streaming course Freeform Parisisal Sculpting
March 21, 2022

-

March 28, 2022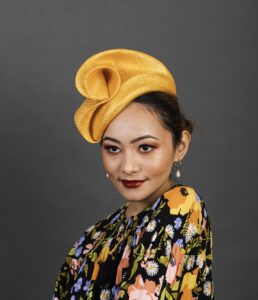 Learn how to prepare and manipulate parisisal straw to produce contemporary organic headpieces without the use of a block. This great technique produces unique flowing pieces that free you from the confines of a hat block. At the end of the session, you will have received instructions on how to prepare, sculpt, reinforce, stiffen and finish your unique headpiece.
Equipment / materials: A polystyrene foam head, a steamer (but a kettle will suffice), an iron and a sewing machine, along with the materials (the full list is provided on registration, but the essential item is a parisisal cone, also known as sleeve or hood).
Skills: This millinery workshop is suitable for beginner to advanced students. You need to know how to thread and use the sewing machine, needle and thread for some hand sewing.
Sessions: The course has 2 sessions. The first session (1.5 hours) is an in-depth demonstration of the technique. You will be able to work alongside the demonstration to a certain point, then will be required to do some homework before the second session. The second session (1 hour) is designed as a review of your results and for you to ask questions.
Dates (check your local time on World Time Buddy):
Demonstration:
Australia – Monday 21 March 2022, 6am to 7.30am AEDT
UK – Sunday 20 March 2022, 7pm to 8.30pm GMT
New York – Sunday 20 March 2022, 3pm to 4.30pm EST
Los Angeles – Sunday 20 March 2022, 12pm to 1.30pm PST
Review:
Australia – Monday 28 March 2022, 6am to 7am AEDT
UK – Sunday 27 March 2022, 7pm to 8pm GMT
New York – Sunday 27 March 2022, 3pm to 4pm EST
Los Angeles – Sunday 27 March 2022, 12pm to 1pm PST
Cost: $85 AUD (GST will be added to the total cost on checkout; in Australia only)