Live streaming course Buntal Boater
February 7, 2022

-

February 28, 2022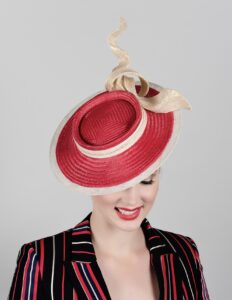 Create a Buntal Boater without the use of blocks. When you first venture into the world of millinery, compiling a collection of good blocks happens over time. In the absence of an extensive block collection, the ability to make and create a diverse range of hat shapes is a bonus. In this three-part workshop you will make this boater style hat and a bandeau support for the perfect tilt and fit. You will be learning two very useful techniques, creating a structured hat without the use of blocks and creating the supporting bandeau underneath, which can be adapted to any hat you want to give a lift, tilt and fit on the head.
At the end of the 3 x 2.5 hour sessions (over 3 weeks), participants will aim to have made an untrimmed buntal boater with bandeau support for desired positioning on the head.
This workshop is suitable for intermediate and advanced millinery students. Assumed knowledge for students participating will be basic millinery stitches, alternatives for finishing a brim edge and trimming the hat once course is complete.
A materials list will be emailed to you following registration in the course.
Dates (check your local time on World Time Buddy):
Australia – Monday 7, 21 and 28 February 2022, 6am to 8.30am AEDT
UK – Sunday 6, 20 and 27 February 2022, 7pm to 9.30pm GMT
New York – Sunday 6, 20 and 27 February 2022, 2pm to 4.30pm EST
Los Angeles – Sunday 6, 20 and 27 February 2022, 11am to 1.30pm PST
Cost: $250 AUD (GST will be added to the total cost on checkout; in Australia only)