Block your Socks Off with Felt!
October 21, 2021

-

October 23, 2021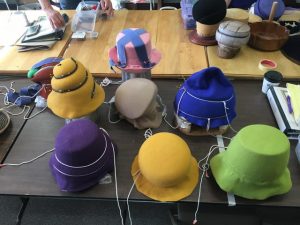 Tutor: Laura Hubka
Experience Blocking is Needed:
Come spend a few days in the new Judith M classroom and let the expanded assortment of antique hat blocks inspire you. With literally hundreds of shapes to choose from, you may be surprised where your creativity takes you! For this class, students will be able to block unlimited hats utilizing any felt they purchase from the shop during class, or any felt materials you have brought from home. You are also invited to bring blocks from your personal inventory, if something you own has you "puzzled". Also covered will be blocking on found objects, You will never look at your dinner plate the same way again! This is the all-you-can-eat-buffet of hat blocking workshops. In this 3 day course, you can expect to block anywhere from 2 – 12 hats, it's up to you. Just wear something comfy, roll up those sleeve, and prepare to block your socks off!