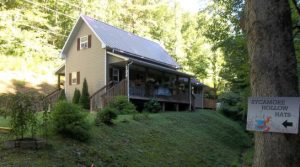 My name is Glenna Combs and I have a small fiber arts studio in Manchester, Kentucky, USA . This is in the beautiful and culturally unique Southern Appalachian mountains.
I began my millinery career nearly 4 years ago so I am still a novice. I began buying all the blocks, supplies, etc and by the spring of 2015 my small cottage home was over run with it. I decided to build a home studio. I built a 16 X 20 workshop onto my house.
In 2017 I hosted classes with Jan Wutkowski, Veronica Chin and Laura Whitlock for 3 day millinery classes. They were very sucessful. This year, I have expanded my offerings to other fiber arts as well.
My studio is small and I can have 5 students at each class. My greatest desire is to be a really cool place to have folks come to and learn millinery. Each class I have a bluegrass band come and we perform for everybody on Saturday nights. Great fun for all!
Email: sycamorehollowhats@gmail.com  Telephone: 606-598-7186.
Sycamore Hollow, 105 Jerry's Road, Manchester, KY 40962 .