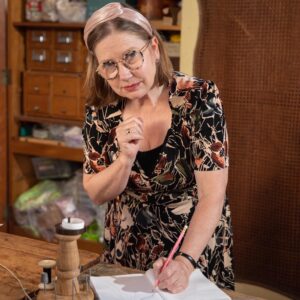 In 2020 Catherine Kelly celebrated 30 years of teaching at Sydney Community College. Having learnt to sew as a young child with her mother and dressmaker grandmother, she trained and taught as a Home Economics and Textile and Design Teacher. In 2007, launching her successful millinery brand Embellish® Atelier, Catherine added millinery to her education repertoire.
Catherine's passion for teaching the traditional skills of millinery has seen her teach in locations across the country – from Central Queensland to Melbourne. She has taught Textile and Design classes in high schools and tutored HSC students and community groups, as well as offering a range of beginner and advanced Millinery and Flower making classes in her Sydney-based studio. Catherine has been a guest teacher for the Lina Stein School of Millinery in Ireland and at the Hats off to Brisbane Millinery Conventions.
In 2020, with many of her classes being taught via live-streaming, Catherine was inspired to develop this series of skills-based millinery techniques. Catherine's goal is to inspire your creativity and give you confidence to use, experiment, and develop your unique style.
View the online workshop programme here: www.hattersmillineryschool.com.au