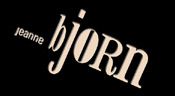 Jeanne Bjorn has been designing and constructing clothing, millinery, and costumes professionally since 1980. She has a wealth of experience having worked on costume design for stage and film and began studying Millinery Design at The Fashion Institute of Technology in 1990. She developed her own line of Millinery for wholesale accounts including: Barneys New York and VariZioni in New York amongst others. Over the past ten years, she has taught Millinery Design at The Colorado Institute of Art, D'Leas Fabric & Button Studio, The Oregon College of Art and Craft, and at her studio in Portland, Oregon and now Tucson, Arizona.
Courses Offered: Millinery: Draping with Felt, Blocking with felt and straw, Block Making, Advanced Blocking, Straw Braid, Bridal, Fabric Covered Hats, Turbans, Theatrical Head Dress, Patterns & Construction – soft fabric hats and Millinery Workshop for more experimental work.
All millinery classes can be taken as 1 day courses up to 5 day courses or weekly evening classes if you live in the Denver area.
Contact: Jeanne Bjorn
Telephone: 1-503-819-7423 Email: classes@jeannebjorn.com
www.jeannebjorn.com
Hatmaking, Shoemaking & Handbag Design Classes