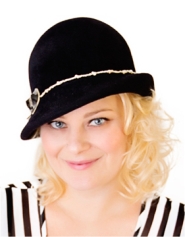 Jenny Pfanenstiel, International Award Winning Couture Milliner and Owner of Formé Millinery, makes handmade hats for women, gentlemen and children. Her one-of-a-kind hats are created using age old techniques of steaming and blocking over hat blocks as a true Couture Milliner once did. In addition to using age old techniques, Jenny has mastered the art of hand manipulation of traditional and nontraditional millinery materials creating "sculptures" for the head.
Jenny is a Milliner that creates hats for the modern person with an old soul. As a Milliner, she has become known for her dedication to quality and taking once admired materials from the country roads in France, to the outback in Australia, and incorporating these pieces to truly make one-of-a-kind pieces. "As a Couture Milliner, my goal is to make a person feel sensational in my hats. I want them to look into the mirror and feel transformed, almost as if they are one with the creation of the hat."
Jenny has created hats for some of the world's most fashionable ladies, including Oprah Winfrey, First Lady Michelle Obama, Barbara Corcoran from the TV show "Shark Tank", Regina Taylor and Louisville's very own Patti Swope and Patti Heuser. Jenny also creates beautiful hats for productions with the Joffrey Ballet and the Goodman Theatre in Chicago. You can find her collections in specialty boutiques around the world and in magazines such as Vogue, Tatler, Country Living, Vigore and Belle Armoire. She is also a featured Milliner for the Derby showcasing her hats at Keeneland, The Kentucky Derby Museum, Koi Gallery – Galt House, Les Filles, Equus Run Vineyards and many Kentucky TV stations and magazines.
Millinery is a craft that Jenny wants to keep alive. She teaches Couture Millinery instruction around the world in group and private workshops, including basic blocking on antique hat blocks, to sculptural hats using Jinsin.
Jenny is on the Board of Directors for the Apparel Industry Board and Fashion Group International, a member of the Milliners Guild in NY, member of the Headwear Association, a 2012 FGI Rising Star Winner, and a two time Winner of the Hatty Award (an International award given to Milliners).