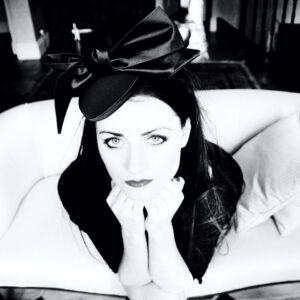 About me 
Train to become a milliner with Justine Bradley-Hill on line via zoom or in her purpose built studio on the edge of the Yorkshire Dales. There are only a limited number of students each year due the heavy work schedule of the studio. 
Justine has over 30 years of design experience and 20 years millinery practice; a highly qualified teacher offering bespoke one-one millinery tuition and master class workshops.  Justine has gained a BSc (Hons) Degree in Textiles as well as the City and Guilds Level 2, Level 3 in Creative Arts specialising in Millinery and HNC in Millinery from Leeds College of Art.
She has been a guest tutor for London Hat Week, Parkin Fabrics, Hat Blocks Direct, Artipistolis Spain, The Creative Workshops and Hatwalk Ireland.
Justine has also achieved level 3 Ptlls in training and education.
Students have placed 1st and 2nd place in the the felt makers competition.
Justine is a member of The British Hat Guild and is currently offering the following courses:
Introduction to millinery (studio based). 
One year introduction to millinery
This an introduction to millinery to get you started on your journey The course consists of 11 sessions over the one year  Running October -September with a break in August (1 session per month). The studio class runs 10 am -4pm.
The year will introduce you to the basics of millinery.
Straw
Sinamay
Felt
Feathers
Silk flower making
Trims
Head fittings, Alice bands and prongs
Dyeing sinamay/straw/feathers
Intermediate millinery course 
The course consists of 11 sessions over the one year
Running October -September with a break in August (1 session per month). The studio class runs 10 am -4 pm.
A maximum of two students per session.
For milliners with at least one year of millinery. I am passionate about the traditional craft of millinery and teach my students how to become milliners and design without replicating others' work. I do not teach any of my current trims.
The course consists of a series of projects covering different areas of millinery and is designed to develop varied technical skills and expand each student's individual design creativity.
Subjects covered:
Working with fabric and foundation material to produce Jackie O pillbox and 16 pleats sectioned buttons or beret
Couture sinamay including bias and free-form pieces
Advanced straw bias/free or boater techniques
Leather blocking and flower making
Rigid veil/Veil blocking/ Veil trims
Working with lace to create my signature boater
Hat fittings
Producing a collection and identifying trends is discussed throughout the year.
Colour matching and dying
Felt
3rd millinery for those who completed intermediate course.
An opportunity to work on your own projects under my watchful eye.
We can work on specific techniques to advanced students or professionals and take the skills learnt in previous years and fine tune them.
Sinamay
Pinok pok
Abaca
Felt
Veiling
Straw
Silk
1-1 Bespoke teaching session with Justine
6 hr session either one day 10.00am – 4.00pm or split into two 3 hr sessions. Discuss with Justine subject you would like to cover. Cost £300 per six hour session materials are not included.
See more at: http://justinebradley-hill.co.uk/teaching
Email info@justinebradley-hill.co.uk
Mobile: +44 (0)7962 177733