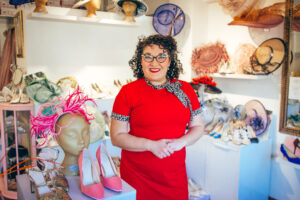 With more than 18 years of experience in the industry, I have now launched The Millinery School. I was taught by the best, Rose Cory. Rose is the most generous of teachers, offering her traditional techniques with a hint of wit & a lifetime of knowledge. I aim to be as thorough in my teaching, starting with some core basic training that I believe we all should know, & adding a modern twist to it. At present I am offering 1 online workshop a month; there is no monthly subscription needed, and people can buy whatever course they want to attend. I often do live streaming straight from my desk where I show what I am currently working on & answering questions on that technique too. There is so much to learn in millinery & hatting, that I believe we are always learning.
My next class is in March & I am teaching how people can make their very own two-tiered bridal veil. Such pieces are timeless classics with brides all over the world. And as I'll be showing how to make your very own pattern too, you'll be able to move forward & create veils in all sizes & styles after this class.
For more information on my current class offerings, please see my social media.
Contact info:
Facebook group: https://www.facebook.com/groups/millinery.school
Instagram: https://www.instagram.com/millinery.school
Contact: info@katievaledesigns.com