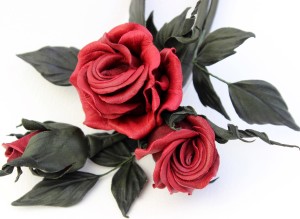 Svetlana Faulkner is one of the UK's leading designers of art flowers made with fabric and genuine leather employing advanced techniques. Following her extensive training with some of the experts in the craft from Russia and Japan, she has founded the PresentPerfect Creations studio. Svetlana successfully juggles parenting, gardening, cooking and her passionate devotion at PresentPerfect Creations. She is the creative force behind it. In fact, she is involved in the whole process of producing flower pieces from design to material selection through to making and assembling elements into a finished piece.
Svetlana is pleased to offer tuition in flower making, both leather and fabric from beginner to advanced levels and courses include:
Leather Rose
Silk Rose
Silk Camelia
Silk Dandelions
Leather Dahlia
Peace Rose Video Tutorial includes:
an introductory lesson on dyeing fabrics
a full recording of the live event (2hrs)
a BONUS lesson on how to make, shape and assemble the foliage for the rose
all proceeds go to the British Red Cross Ukraine Appeal.
NEW: OVERSIZED BLOOMS VIDEO TUTORIAL – This is an on-demand advanced fabric flower course on the following 3 fabric flowers: Dawn Beauty POPPY, Hidden Treasyre PEONY, Fairy Dust ROSE.
All courses take place in Norwich. It is also possible to learn via Skype. For more details send an email to enquiries@presentperfectcreations.com