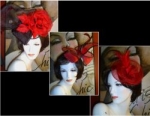 My name is Linda Crawford, I am the millinery designer and straw sculptress for Secret Beauty Hats. My hats are handmade in the USA and I design each hat using fine quality materials from around the world. My specialty is sculpturing and blocking straw with my favorite medium sinamay.
Look great and feel good every day in my fabulous Secret Beauty Hats or learn to make your very own.
I offer hat making workshops for groups and individuals with a serious desire to learn. Beginners and advance hat makers are welcome.
Miamisburg, Ohio 45342
Contact number: (312) 857-4287