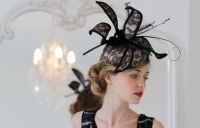 Tracy Chaplin is an award winning couture milliner and teacher with 20 years of experience in the millinery business.  She trained with Rose Cory, royal warrant holder and milliner to the late Queen Mother.
She has been a major prize winner at the internationally renowned "Estivale du Chapeau" in Caussade, France, winning the prize in 2015 for her hat in the "Flower and Feather" category. In 2014 her hat was selected at "Salon Chapmod" as the most artistic and creative hat, a prize awarded by the "Hat Magazine".
She runs millinery workshops from her beautiful home in France. The workshops can be tailored to suit the individual or group and the maximum group size is 6 people to allow time for personal tuition. Her enthusiastic and unique approach is inspiring students from across the globe.
For further information contact. www.tracychaplin.co.uk