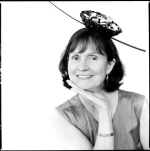 Adrienne is a Reading-based milliner who creates bespoke hats and headpieces from the exotic and eccentric to the more traditional styles. When you can't find that perfect hat for that big occasion, commission a design that's perfect for you and your outfit.
Adrienne draws inspiration from the personality of the person commissioning the headpiece to truly create a unique design.
Adrienne has been sewing and designing clothes for over 30 years and has combined her passion for sewing with her love of headwear and her many years of teaching to offer hat-making workshops that teaches you basic millinery skills in a fun environment. These workshops are perfect for groups including hen parties and birthday parties, and are offered in half-day and full-day options.
Learn how to make a headpiece, cloche or how to block your own pillbox hat and take your own masterpiece home.
Adrienne Henry Millinery, 26 Harris Arcade, Reading, RG1 1DN
Tel: 0118 9504421
Email: adriennehenrymillinery@gmail.com
www.adriennehenrymillinery.co.uk