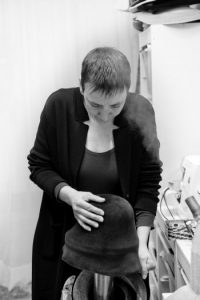 After ten years working in her shop in Onderbergen Els Robberechts moved to Meelstraat 34, Ghent in December 2015. It is located in an area with a rich textile history. Els had a 19th century textile workers' house completely renovated. The building is an ideal construction to organize various activities.
Els designs and creates unique hats and fascinators in her studio. Each creation is fully handmade with a sharp eye for detail.
Designers and students who want to further improve their skills in hat making can call on Els Robberechts' studio. It's a great place to practice with moulds, felt and innovative materials and techniques. The studio is equipped with an extensive library of millinery books, some 150 original wooden moulds, a steamer, a sewing machine, pins, different yarns and accessories.
The use of felt, sinamay, other specific materials and accessories is not included. These materials can be provided by Els. Maximum capacity: 4 persons
You can rent Els' studio and infrastructure for a day (from 9am till 4pm: 340 € (VAT included) or for half a day from 9am till 12am, or from 1pm till 4pm or from 7pm till 10pm: 180 € (VAT included). This is ideal for starting designers and allows them to postpone investments. On top of that you get Els' expert advice and experience for free.
Introductory experience workshop: "All about hats"
During a three hours' visit you will be introduced in the exciting millinery world. Els will explain and demonstrate in a passionate way how she deals with the creative process. Els will give you an overview of the materials and tools she uses. You will also get customized styling advice. In her showroom Els will help you choose which hat goes with your personality taking into account the occasion. Afterwards you and your peers can exchange ideas with some snacks and a drink.
Maximum capacity: 15 participants, Group rate: 295 € (VAT included)
Els Robberechts Hat Design, Meelstraat 34, 9000 Ghent, Belgium
info@elsrobberechts.be
mobile phone +32 498 10 31 97