Freeform Parasisal Straw Techniques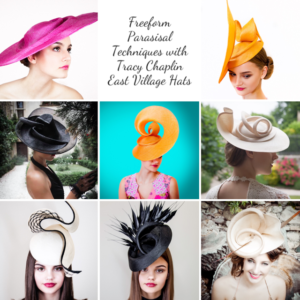 East Village Hats
Sunday May 21st and Monday May 22nd 2023 10am -6pm with a 1 hour lunch break
The workshop will cover free form blocking techniques in parasisal straw. The focus will be on new and exciting techniques that Tracy Chaplin has developed to enable students to create unique and individual hats without the use of hat blocks
The following techniques will be covered in detail.
Preparing materials for free form sculpting: stiffening straw, making templates for your design.
Design and inspiration: The importance of a fluid design and how to achieve this.
Manipulating and blocking techniques: shaping materials by hand using steam and free form blocking techniques. Ironing and specials tools and equipment.
Custom crowns: customized crowns to complement your design.
Wiring techniques: attaching the wire, new wiring techniques, wiring your trim and embellishment. Stand alone techniques.
Creating small and large brim hats without hatblocks.
Sewing techniques, applique trims and the importance of finishing and attention to detail will also be covered.
All Materials including, basic hand sewing skills a must