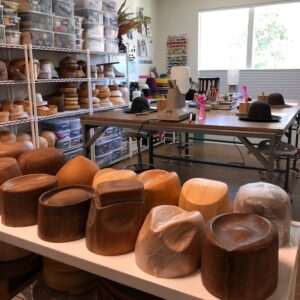 In 1999, Laura Del Villaggio earned a Certificate in Millinery from the Fashion Institute of Technology in New York. FIT's unique and prestigious program offered two years of hands-on training that provided a strong foundation for a millinery career, especially when combined with an extensive background in fashion history and textiles. She has worked as a vintage clothing store manager, fiber arts instructor, collections research associate, theater costume designer and milliner.
Laura designs under the label Milli Starr and her award-winning hats have been spotted in print publications, on the runway, stage, and screen, and at the Kentucky Derby, Dubai Cup, Royal Ascot, etc.
Laura is an active member and currently serving as President of the Milliners Guild.
With 20+ years of professional experience, Laura proudly adheres to the highest standards of craftsmanship and enjoys sharing those techniques with a new generation of milliners. She has an Austin, Texas-based studio and offers private and small group lessons as well as online courses via Zoom.