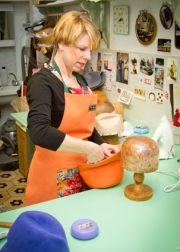 Berry Rutjes Jr., hat designer to the core, millener 'pur sang' and simply just mad about hatters! Her style is clearly recognizable; a classic combination of quality and passionate creativity typify her designs.
Berry has been teaching flower making/millinery for more than 20 years now, in the Netherlands and also travels to teach in the UK.
Workshops open to individuals and groups.
Berry Rutjes Jr. Hatdesign
Hoedensalon & atelier
Hoge Gouwe 71, 2801 LC Gouda, Nederland
Tel: +31 (0)182 769 125
info@berryrutjes.com