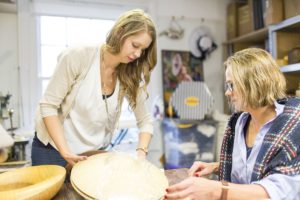 Beverley Edmondson Millinery has now been established for 12 years, with the Farnham boutique and studio opening in spring 2010. Having trained with some of the world's best milliners, Beverley has made hats for film, television and royal weddings. The boutique has been nominated for several awards including Niche Fashion Retailer of the Year by Drapers 3 years running and winner of national accessory designer at the Wedding Industry Awards 2017. Beverley Edmondson Millinery's designs regularly feature in national and international fashion pages and blogs.
Workshops include:
1-2-1 Tuition – With full day or evening options available
4 day Mastering Millinery Bundle
All sessions are tailored to the individuals requirements, covering the topics that you want to cover. Or if you're not sure where to start Beverley also has syllabuses designed to get you on the road to learn all about the magical world of millinery. All sessions are naturally undispersed with business insights for those looking to develop their skills into a commercial venture.
As a natural development Beverley also offers business mentoring to support milliners hoping to launch their own atelier or label, or to further the success of those who already have a label. Understanding the balance between creativity and running a successful business is something that Beverley feels passionately about and Beverley's mentoring sessions are all about allowing creative entrepreneurs to fulfil their potential through accountability, focus and confidence.
Mentoring sessions are tailored to each individuals needs and requirements, and free discovery calls are available to find out more.
Website: www.beverleyedmondsonmillinery.co.uk