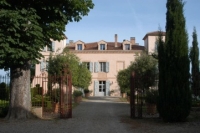 Celebrated milliner Dillon Wallwork returns to Chateau Dumas in 2013 to lead a series of exciting hat-making workshops. His first in July takes its inspiration from the vampish glamour of the 20's and 30's and the golden years of Hollywood with a complimentary vintage hat week in October which focuses on hats from the 40's and 50's.
Drawing on more than 30 years of expertise, Dillon brings something special to the Bridal Headpieces workshop in July as well as a Moulding, Draping and Shaping week in October which teaches freeforming and working with fabrics.
Dillon collaborates with milliner Bridget Bailey on a Feathers and Flowers workshop also in July where you'll learn to work with natural feathers and to create feathers and flowers using sinamay and silk.
Sinamay, straw and felt are all used during the workshops and you'll have the chance to choose from a wide range of original vintage blocks loaned to us by Isabelle Rey, sixth generation hat-maker at Chapeau Willy in Caussade.
Our full 2013 programme includes:
VINTAGE HOLLYWOOD HATS: the 20's and 30's
MILLINERY TRIMMINGS: FEATHERS AND FLOWERS
BRIDAL HEADPIECES
VINTAGE HOLLYWOOD HATS: the 20's and 30's
MOULDING, DRAPING AND SHAPING: Freeforming and Working with Fabric
The millinery weeks at Chateau Dumas include 7 nights' accommodation, all meals, trips out and full-time tuition.
For further details please see: www.chateaudumas.net