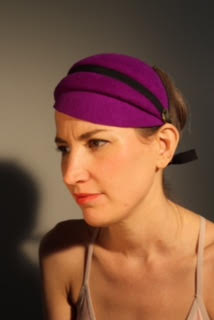 I started as a Milliner in 1996 with The Queen's former Milliner, Philip Somerville. I then landed a job with leading light of the Millinery world Philip Treacy, training and working in the London studio and assisting at Haute Couture shows in London,Paris, and New York. I added to my experience by working as a Theatrical Milliner at Angels, the Costumiers and undertaking freelance work at The English National Opera on Antony Minghella's Madam Butterfly. Other freelance work has included commissions for The Mirror Newspaper for Ascot  and with other Milliners Bailey Tomlin and Piers Atkinson.
COMMISSIONS
Bespoke hats and bridal pieces are made to commission, providing clients with a much needed one to one, made to measure service and an individual experience. An initial consultation is provided to discuss individual needs, followed by a fitting or two depending on the complexity of the design. Fabrics, feathers  and flowers can be dyed to match your outfit.
TEACHING
I  teach Millinery at London College of Fashion at different levels and in various areas of Millinery. My wide experience of teaching includes Fashion and Theatrical Millinery at Kensington & Chelsea College, Central St Martins and  The Arts Institute of Bournemouth. As well as teaching Millinery on projects in conjunction with the Barbican, London College of Fashion and other London and national Museums.  
I have a friendly approach to teaching and like my students to explore their creativity under my guidance to learn  and develop new skills. I will teach you tricks of the trade and show you the skills and techniques I have acquired through my practise.
I offer one to one intensive workshops or small group workshops in Millinery at my London based  studio. Groups are kept small so as to give everyone the individual attention they need.
TEACHING TESTIMONIALS 
"I must say how much I  enjoyed the four days and would recommend it to anyone"  
PhyllisAnderson 
Introduction to Millinery, London College of Fashion
"
Thank you again for the great three days! I really hope I get another chance to work with you"
Suzanne Warfield. 1:1 Intensive Millinery Workshop, at my London Studio
"
We hosted a group of 12 for a Ladies Corporate Entertainment Day. We had a fantastic time on the Fascinator course with

Chloe

, a patient and inspiring teacher. She catered well to all levels of ability and artistic skills. All our guests commented on how much they enjoyed the day, especially that they had a hand-made creation to take home. It was very social and a great opportunity to see a different side to our clients, away from the usual office or meeting atmosphere! We received a plethora of enthusiastic thank you letters the next day. A truly unique and very special Corporate event, I can't recommend it enough."   
Rachel Weatherup, Underwriter, Beazley Group.