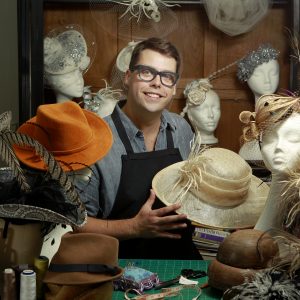 Fashion's crowning glory – hats.  They mark our cultural experiences and even the stages of our lives. Millinery is most certainly expressions of artistry and creativity, of bold individuality.
Nowhere do we see this more than when we top our wedding celebrations with the perfect millinery.
The fashion-forward bride and groom demand unique and artistic excellence to ensure their wedding day shines – brilliantly expressed with head turning, fashionable millinery that are both finely, artistically crafted and bespoke.
Enter, David Dunkley Fine Millinery (DDFM).
International award winning milliner, retail proprietor, trained by former Royal Milliner to Her Majesty Queen Elizabeth the Queen Mother  David Dunkley provides what no one else does in Toronto (if not all of Canada) by combining both the design of bridal and event millinery, and the intimate retail studio that exclusively offers his magnificent creations of hats, fascinators and bridal headpieces.
This combination provides the fashion-forward bride and groom with direct access to one of world's most exceptionally talented and sought-after milliners.  Mr. Dunkley spoils his clients with a truly fun experience, personal interviews and  craftsmanship.
From his own hands and imagination the final millinery creations rise, but Mr. Dunkley carefully spends the time to gain from the bride and groom their unique and personal fashion desires; what will make their day simply like no other – that is the promise of a DDFM hat!
With his successful business model (proprietor with a store front), Mr. Dunkley creates his fashion designs using only the finest materials – imported feathers, silks and crystals and rhinestones. Brides are delighted to learn their DDFM creations are not only one of a kind, but never include synthetic materials.
David offers and hosts millinery workshops – check the website for details: http://daviddunkley.me/classroom/
974 Bathurst Street Toronto, M5R 3G6 Ontario,Canada
P. 416-538-0998
E. David@DavidDunkley.me