ONLINE – HARRIS TWEED HATS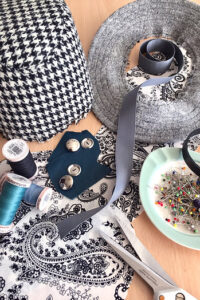 10am – 3.30pm (with a short break for lunch)
In this workshop you will make your own made-to-measure Harris Tweed beret, baker boy hat, trilby, cloche, or bucket hat with a Paisley Pattern print cotton lining, from start to finish – you can choose from a selection of Harris tweed colours for the hat, detail and button, and also choose from head sizes, and lining colours.
Harris Tweed is an iconic traditional wool fabric hand made on the Scottish islands of Harris and Lewis.
THE WORKSHOP:
This is a live Zoom workshop enabling you to enjoy being part of a small group learning together, no matter where you are in the world. The workshop is led by Sally who will be constantly on hand to offer guidance and support.
ALL ZOOM WORKSHOP PLACES MUST BE PURCHASED AT LEAST 7 DAYS (UK) AND 10 DAYS (worldwide) BEFORE THE DATES OF THE WORKSHOP – this is to allow for preparation of your colour choices of materials and shipping of these to you in time for the workshop.