ONLINE MILLINERY MASTERCLASS – COLD PORCELAIN TECHNIQUES
May 29, 2021

-

May 30, 2021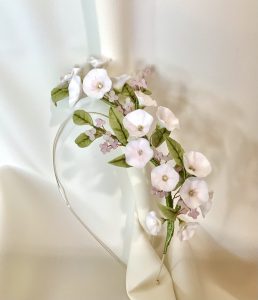 What is Cold Porcelain and how can it be used in millinery?
Cold porcelain clay is an air-drying modelling material used for modelling miniature flowers and leaves in millinery, which when dry is very hard and resistant to breakage.
This is a 2-day online course suitable for all levels.  It is aimed at those who would like to learn or perfect techniques in modelling cold porcelain to create flowers, leaves and stamens, which can be used to make unique headdresses. This technique can also be applied to fashion accessories such as belts, bodices, evening handbags, brooches…
The first day will be dedicated to colouring, cutting, shaping and forming four different kinds of flowers, three kinds of leaves and stamens.  On the second day, we will teach you different painting techniques: how to gradate with oil paints and add shades of colour with metallic and pearlescent paints to create different effects, making the flowers and leaves look more natural and realistic.  Lastly, we will proceed to assemble some of the pieces, made on the first day, to form a beautiful floral headdress.
Geraldine Penistone and Belen Escacha design and create custom-made millinery in Madrid, Spain and are both members of the 'Asociación Española de Sombrereria' (Spanish Association of Millinery).
Australian course: Please contact us for future dates
Price: 320 euros
UK:  (GMT+1) 13.30 – 20.30
USA:  (EDT)  08.30 – 15-30
          (CDT)  07.30 – 14.30