Virtual: Crin -veils, flowers, fireworks, loops and distressed techniques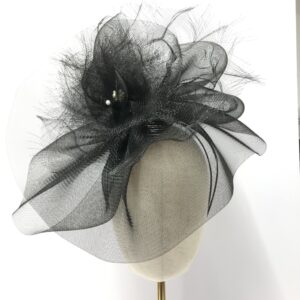 Online Class with Jenny Roberts
Virtual Introduction to Crin -veils, flowers, fireworks, loops and distressed techniques. This hands-on workshop uncovers the mystery of 'Crin'.
bout the Tutors
Jenny Roberts is one of the North's leading milliners. Recognised for her couture brand, she has been creating beautifully crafted pieces for her clients for over 15 years.  Over the last 7 years, along with her co-tutor Marie Halewood, they have gained an international reputation for the Millinery School, teaching to the highest standard for hobby and professional milliners.
Offering a variety of classes from their Harrogate based School Jenny and Marie are thrilled to be able to offer their courses virtually.
About the Workshop
This workshop is a introduction with working with crin
You will need to be confident with a needle and thread to fully enjoy this workshop.  This workshop is suitable for beginners.